Screaming Eagle
SCREAMING EAGLE
Founded in 1986 by Jean Phillips, a one-time real estate agent, Screaming Eagle Winery and Vineyards was one of the original cult wineries. Located in Oakville, the 57-acre winery was by 1992 winning rave reviews from such critics as Robert M. Parker Jr. Heidi Peterson Barrett was the winemaker in those years and the wine became so sought-after that it was one of the first to be available only through mailing lists. Screaming Eagle makes primarily Cabernet Sauvignon, though it occasionally produces very limited amounts of Sauvignon Blanc. In 2006 Phillips sold the winery to several California businessmen, who continue to produce in extremely limited quantities of about 400 to 600 cases a year. In 2012 the winery released Second Flight, a new Cabernet Franc and Merlot blend. The winery released the limited production Second Flight in verticals consisting of 2006 – 2009 vintages.
Under the ownership of Stan Kroenke, this vineyard has been replanted (shortly after purchase) and a new cellar has been constructed. The production of Screaming Eagle has remained between 700-1,000 cases, and a second wine, the Second Flight, includes 520-800 cases. This vineyard, situated on the valley floor at the Oakville Crossroads across the road from the Rudd Estate, encompasses 60 acres, but only a small percentage is used for these two cuvees.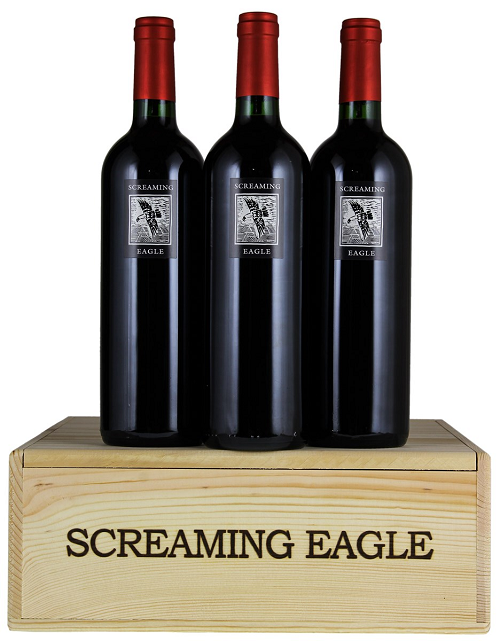 WINES AVAILABLE FOR PURCHASE
2011 Screaming Eagle 750ml   $2,499.00/bt
99 points James Suckling  – Mindlblowing nose with spearmint, cloves and blackberries. Floral, too. Full body with phenomenal detail featuring delicate but intense blackberry, espresso, toasted oak, caramel and dark chocolate. Cedar and sweet tobacco. Finesse all over. The wine of the vintage? Everything is there. Great energy. Best in 2018.  (5/2014)
2012 Screaming Eagle 750ml  $2,499.00/bt
100 points Robert Parker's Wine Advocate – The perfect 2012 Cabernet Sauvignon Screaming Eagle is composed of 79% Cabernet Sauvignon, 17% Merlot and 4% Cabernet Franc. Made in the classic, iconic Screaming Eagle style that the original proprietress, Jean Philipps, first showcased in the early 1990s, before the winery was sold to Stan Kroenke, the inky/purple-colored, seamless 2012 possesses an extraordinary set of aromatics consisting of pure blackcurrant liqueur, licorice, acacia flowers, graphite and a subtle hint of new oak. Full-bodied, opulent and voluptuous, this profound wine is as prodigious as I thought it would be last year when tasted from barrel. It should age effortlessly for 20 or more years. (RP)  (10/2014)
2013 Screaming Eagle 750ml   $2,499.00/bt
97 points Robert Parker's Wine Advocate – The 2013 Screaming Eagle flagship wine is a blend of 76% Cabernet Sauvignon, 13% Merlot and 11% Cabernet Franc. As one might expect, the purity of the cassis, which is always a hallmark of this estate and wine, is well-displayed in this beauty. Dense purple in color, it offers up some floral notes intermixed with damp earth, blackcurrant jam, blackberry and hints of licorice and incense…Full-bodied, rich, but perfectly balanced, it's another terrific example of this iconic estate.  It should drink well for 30 or more years.
Click HERE to purchase
2011 Screaming Eagle Second Flight $599.00/bt
A blend of 54% Merlot and 46% Cabernet Sauvignon, the elegant, round 2011 Second Flight offers hints of coffee beans, roasted herbs, black currants and jammy black cherries. Elegant and medium-bodied with low acidity and sweet tannin, it should drink nicely for 7-8 years
2012 Screaming Eagle Second Flight  $599.00./bt
The 2012 Second Flight may be the highest scoring second wine I have ever reviewed. A blend of 48% Cabernet Sauvignon, 43% Merlot and 9% Cabernet Franc, it is completely different from the Screaming Eagle since the latter wine is at least 75% or more Cabernet Sauvignon and the balance Merlot with only a tiny dollop of Cabernet Franc. The 2012 Second Flight offers up floral, blue and black fruit, mocha and white chocolate characteristics. It possesses full-bodied, silky flavors, and a finish that lasts 50+ seconds. It can be drunk now, but should evolve effortlessly for 12-15+ years.
2013 Screaming Eagle Second Flight  $599.00/bt
The 2013 Second Flight is 65% Merlot, 22% Cabernet Franc and the rest Cabernet Sauvignon. This wine displays the energy, vibrancy and tension of 2013, and is not nearly as dramatic and flamboyant, nor as sexy as the 2012, but the wine is outstanding, very Bordeaux-like and well-made, with loads of red and black currant fruit, some licorice and underbrush as well as loamy soil notes. It should drink well for 10-15 years.
Click HERE to purchase
---