Scarecrow

The scarecrow story begins in a patch of earth with a fabled past. The J.J. Cohn Estate, where Scarecrow grapes are born, borders what was once the legendary vineyard of Inglenook winemaker Gustave Niebaum, whose plantings blanketed more than 1,000 acres of the Napa Valley at the close of the 19th century.   John Daniel Jr. took the helm at Inglenook in 1939, determined to restore the label to pre-Prohibition standing and produce world-class Bordeaux-style wines. In 1945, Daniel convinced his neighbor, J.J. Cohn, to plant eighty acres of Cabernet vines on the 180-acre parcel Cohn had purchased a few years prior. The property served as a summer retreat for Cohn's wife and their family. He had no ambitions to become a winemaker himself, but Daniel promised to buy his grapes, so Cohn planted vines. The rest, as they say, is history.
J.J. Cohn fruit figured prominently in Inglenook's superlative Cabernet Sauvignons of the post-war era, and has more recently gone into wines of such renown as Opus One, Niebaum-Coppola, Duckhorn, Insignia and Etude.   J.J. Cohn Estate grapes are highly sought-after in part because Cohn bucked the trend, begun in the mid- 1960s, of replacing vines planted on St. George rootstock with the supposedly superior AxR#I hybrid. Over time, vines grafted onto this new stock proved highly vulnerable to phylloxera. But by then, virtually all of the old St. George vines in Napa had been destroyed. Only the original 1945 J.J.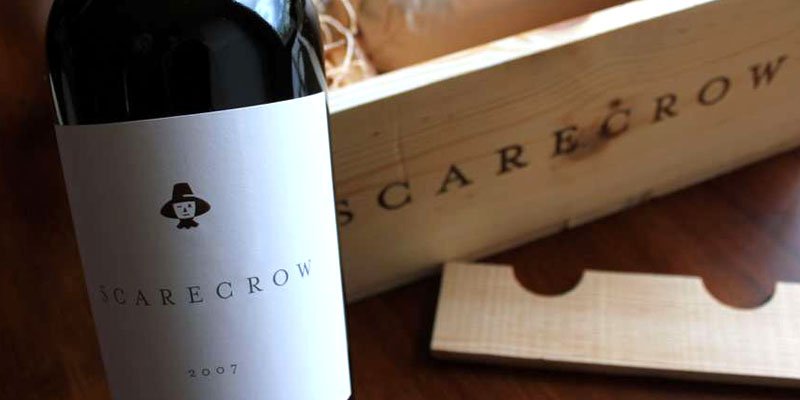 WINES AVAILABLE FOR PURCHASE
2008 Scarecrow Cabernet Sauvignon 750ml   $449.00/bt
Notes from Robert Parker's Wine Advocate – After a perfect wine in 2007, I suppose the 2008 is something of a letdown. A hundred percent Cabernet Sauvignon (800 cases), this is still an outstanding wine, with classic graphite, creme de cassis, blueberry and floral notes all well-presented in the perfumed aromatics of this full-bodied, rich, concentrated wine. It has some noticeable tannins to be resolved and is not as seamless and flawless as the monumental 2007. Nevertheless, this is a gorgeous wine to drink over the next 20+ years.
2009 Scarecrow Cabernet Sauvignon 750ml  $449.00/bt
Notes from Robert Parker's Wine Advocate – The 2009 Cabernet Sauvignon bursts from the glass with huge dark fruit, scorched earth, menthol, licorice and smoke.  . Anticipated maturity: 2014-2024.
2010 Scarecrow Cabernet Sauvignon 750ml   $499.00/bt
Notes from Robert Parker's Wine Advocate – Tasting the three most recent vintages of the Scarecrow Cabernet Sauvignon was not only a privilege, but also an intellectual and hedonistic turn-on. The 2010 Scarecrow Cabernet Sauvignon (100% Cabernet Sauvignon) is a magnificent wine. Full-bodied and opulent with terrific purity, an intriguing, gravelly, wet stone-like minerality, and a sensational perfume, it has a spectacular finish that lasted over 45 seconds, offering up copious quantities of black currants, black cherries, cedar and vanillin. It is one of the superstars of the vintage. It is accessible now because of the sweetness of the tannins, but make no mistake, there is plenty of structure underlying the luxurious fruit levels. It should drink well for 30+ years. 98 points
2011 Scarecrow Cabernet Sauvignon 750ml   $399.00/bt
Notes from Robert Parker's Wine Advocate  – A notable success in an extremely irregular vintage (even more so for Napa's valley floor vineyards), the 2011 Scarecrow Cabernet Sauvignon possesses a deep ruby/plum/purple color, and a slightly lighter weight and less of a serious foundation of structure than the 2010. However, the wine's purity and hints of kirsch, black currants, berry fruit and toasty oak are well-displayed and well-integrated into this seamlessly constructed effort. It is on a relatively fast evolutionary track so drink it over the next 10-15 years.
2012 Scarecrow Cabernet Sauvignon 750ml   $599.00/bt
Notes from Robert Parker's Wine Advocate – The classic 2012 Cabernet Sauvignon included fruit from the 2-acre, old vine parcel that is nearly 70 years of age. It boasts an opaque purple color as well as copious notes of spring flowers, blackberries, black raspberries and wet rocks. The wine's gravelly minerality and spectacular opulence and density make it an instant classic. This massive, full-bodied 2012 should drink beautifully for 15-20+ years. It showed incredibly well last year, and it still reveals the potential to possibly merit a 3-digit score – it's that special.  98 points
2013 Scarecrow Cabernet Sauvignon 750ml   $699.00/bt
Notes from Robert Parker's Wine Advocate – The prodigious 2013 Cabernet Sauvignon Estate is 100% Cabernet Sauvignon, including fruit from some of the oldest Cabernet vines still in existence in Napa. This full-bodied classic displays notes of forest floor, earth, crème de cassis, blackberry liqueur, licorice and some pen ink. It is dense, full-bodied, prodigiously rich, massive in intensity, yet relatively light on its feet. This great ballerina of a wine has extraordinary ripeness but pulls back from the edge before going over the top. There are 1,000 cases of this classic, which should age effortlessly for 30+ years.  100 Points
2003-2013 Vertical of every vintage of Scarecrow produced.  all 750ml.  $5,000.00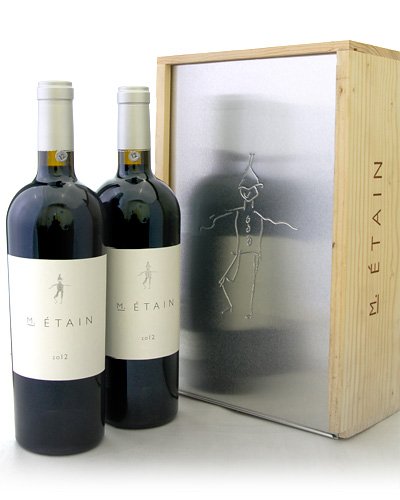 2012 Scarecrow M. Etain Cabernet Sauvignon 750ml   $225.00/bt
Notes from Robert Parker's Wine Advocate – The 2012 Cabernet Sauvignon M. Etain is in essence a second wine, but it sure doesn't taste like one. Its deep purple color is followed by pure black raspberry and blackcurrant fruit, dusty, loamy soil notes, extraordinary depth of fruit, ripeness and good acidity. This opulent, round beauty is ideal for drinking over the next decade or more.
2013 Scarecrow M. Etain Cabernet Sauvignon 750ml   $299.00/bt
Notes from Robert Parker's Wine Advocate – The 2013 M. Etain Cabernet Sauvignon, which is hardly a second wine by any means, offers beautiful blackcurrant fruit with some cedar wood/sandalwood notes, an opulent, full-bodied mouthfeel, stunning purity, and that layered texture that is so enticing. The wine has a beautiful opaque purple color, hints of graphite, blueberry and blackberry fruit, a touch of licorice and the soil undertones that some would say are part of the so-called "Rutherford dust" scenario, although that's debatable. This wine has the sweetness and opulence to be drunk young, but won't hit its prime for at least another 5-8 years and keep for 20-30.  95 points
---