Koehler Winemaker Dinner September 27, 2017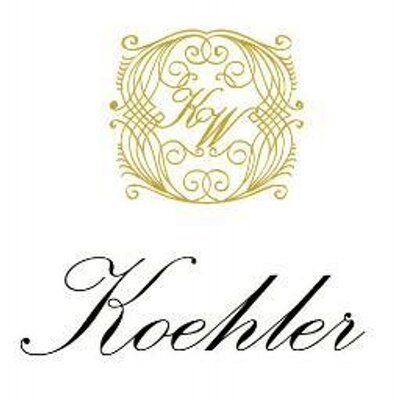 Dinner with the Winemaker
 An intimate evening of exploration and discovery
 featuring: Colin Murphy, Winemaker
and his Rhone Varietals from the Central Coast
 Wednesday   September 27, 2017  7:00 pm
KOEHLER WINERY
Koehler Winery sits on a spectacularly beautiful 100 acre estate, surrounded by rolling hills and a small riparian stream that gently nestles its way throughout the property. The estate's storied history includes ownership by one of the most successful television producers in history, renowned for such iconic shows as The Love Boat, Dynasty and Wonder Woman. It was during this period over 40 years ago that the vineyard was expanded to its current sixty-seven acres. By the time the property was acquired by the Koehler family in 1997, the estate's bountiful vines and superb fruit were documented as among the best in the famed Santa Ynez Valley. Once the Koehlers recognized that some of the best wines in the valley were being produced with grapes harvested from their vineyards, they resolved to launch their own winery and tasting room. Drawing on their own entrepreneurial experience, the Koehler's mission was to create a world-class winery committed to making premium wines at affordable prices.
MENU
Upon Arrival
Grilled Fig, Triple Cream Brie, Orange Blossom Honey
2016 Koehler Grenache Rosé Santa Ynez Valley
First Course
Lobster Bisque, Endive, Candied Walnuts, Dijon Vinaigrette
2016 Koehler Grenache Blanc Santa Ynez Valley
Second Course
Pan Roasted Salmon, Parsley Salsa Verde, Fennel Confit, Charred Garlic Bread
2013 Koehler Mouvedre Santa Ynez Valley
Third Course
Red Wine Braised Chicken, Penne, Tomato-Anchovy Garlic Sauce
2013 Koehler Grenache Santa Ynez Valley
Fourth Course
Beef Tenderloin, Citrus Tarragon Bernaise, Truffled Gruyere Potato Gratin
2014 Koehler Syrah Santa Ynez Valley
Fifth Course- Dessert
Dark Chocolate Mousse, Toile Crumble, Raspberry, Lemon Cream
THIS EVENT IS SOLD OUT!
To get on the waiting list, please send an email to – KoehlerWineDinner@rustickitchen.la
---
20 Replies to "Koehler Winemaker Dinner September 27, 2017"
Sara Sluss

August 24, 2017 (11:24 am)

Wanted to get tickets but can't seem to figure out. Would want 2 tickets for the dinner. Thanks.

john

August 24, 2017 (11:37 am)

I will put you down for two tickets. we are having issues with our online system and will let you know when its fixed. thanks!

Jim Ciccone

September 9, 2017 (2:26 pm)

John , please reserve two seats for me for the winemaker dinner

John Franzblau

August 29, 2017 (3:22 pm)

Put me down for one ticket!!!!!!!!! Can't wait…I miss my wine dinners!

Marti Baldecchi

August 31, 2017 (1:27 pm)

I am SO in!! Can't seem to get to the "reserve a spot" screen – but can you please put me down for 1 seat? (Next to Franzblau!! 🙂 )

KATHY BENJAMIN

September 1, 2017 (10:20 am)

Hi, I would like 2 tickets to Koehler Winemaker Dinner on September 27, 2017. Thanks!

david annanders

September 1, 2017 (10:39 am)

tried to reserve spot via link provided, but it only shows a wine shopping cart for rustic. I had wanted to reserve five pots for this event. thank you.

Lidia Weinstein

September 13, 2017 (10:20 am)

I would love 2 tickets!!!

Jeffrey Johnson

September 1, 2017 (11:09 am)

Can't seem to get to the page to buy tickets for the Koehler event.

david

September 2, 2017 (11:28 am)

would you please reserve 5 seats for this event? thank you.

Barry Lafferty

September 3, 2017 (4:53 pm)

I would like to reserve two spots for my wife and myself. We really enjoyed the Koehler Wine on our wine tour last November. Really looking forward for this wine/Dinner. Like the others — not able to reserve from the link directed.

Elizabeth Beagle

September 4, 2017 (2:40 pm)

Web site still not able to take reservations, I guess. Would like to reserve for 2.

john

September 21, 2017 (9:58 pm)

online system is working now if you are still interested in coming to the event. I will give the seats to someone on the waiting list if we dont hear from you tomorrow. thanks!

Matt Gardner

September 5, 2017 (7:01 pm)

I also want to buy two tickets for the event, but the site isn't letting me…

Michael Selch

September 7, 2017 (5:13 pm)

Trying to reserve two spots for Sept 27 but site won't open.

john

September 21, 2017 (9:57 pm)

Online system is working if you are still interested in coming to the dinner. I will let others on the waiting list in if I dont hear from you tomorrow. thanks

Liann Asmussen

September 9, 2017 (2:44 pm)

Hi John,
Glad you guys are back. Gordon and Lynne and I would like to come to this event! He bought use gift certificates for the wine makers dinner for our birthday, so thoughtful.

Thanks John

Kimberly LaBelle Kluth

September 10, 2017 (4:03 pm)

Are there spots available for this dinner still? The link to purchase tickets doesn't seem to be working.
Thanks

Juliet Williams

September 21, 2017 (6:35 pm)

Hello! I would be grateful if I could please be added to your mailing list so that I can find out about these wonderful wine tasting events. Thanks!

September 26, 2017 (2:38 am)

Congrats! On selling out the planned dinner; also for re-opening..

We can talk soon.

Thanks!
---