New Years Eve Dinner 2018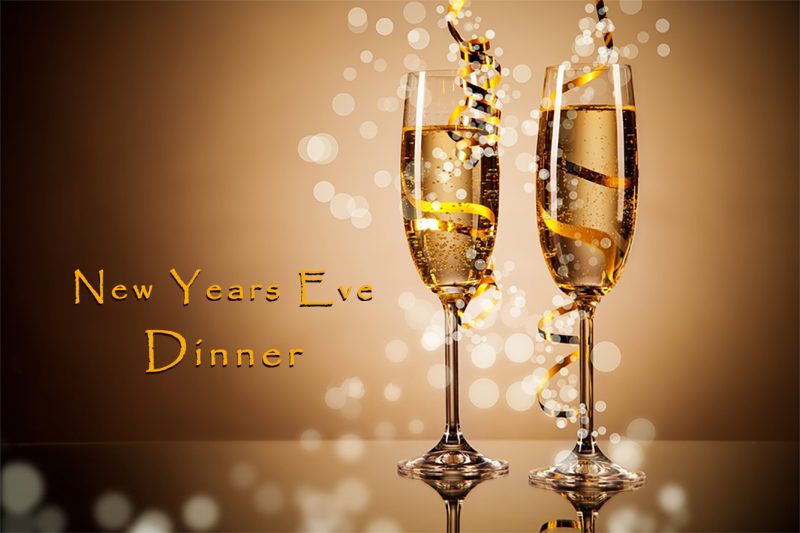 New Years Eve Dinner 2018 at Rustic Kitchen. Joins us for a special 3-course dinner on Dec. 31st, 2018
Monday, December 31, 2018
One Seating  – 7:30pm, 7:45pm or 8:00pm reservation
—————————————————————————————————————————–
A Special 3-course Dinner
1st Course Choose One
Burrata & Prosciutto Walnut, Cilantro Pesto, Aged Balsamic, Toasted Baguette
Classic Whole Leaf Cesar, Shaved Parmesan, Garlic Croutons, Fried Anchovies (add Lobster + $13)
Fried Oysters, Sautéed Spinach, Walnut Cream Sauce
(choose two items above to total four courses – + $15)
+A glass of Champagne
2nd Course Choose One
Wild Mushroom Tortelli, Goat Cheese, Lemon Thyme Pesto,  Toasted Breadcrumbs
Seared Scallop, Saffron Cream Sauce, Yukon Gold Puree, Fried Spinach
Beef Tenderloin, Pink Peppercorn Sauce, Cauliflower Cake
+A glass of Red or White wine
3rd Course Choose One
Lemon Ricotta Doughnuts, Raspberry Sauce, Powdered Sugar
Chocolate Chip Ice Cream Sandwich, Chocolate Covered Strawberry Ice Cream, Dark Chocolate Sprinkles
+Coffee, Espresso or Cappuccino
—————————————————————————————————————————–
$79 per person
(Calif sales tax + 20% gratuity will be added)
Limited Space – Make your reservation today!
Menu is Prix-fix – no substitutions
($25pp deposit required to confirm reservation)
Dinner will be wrapping up around 10:30, giving all guests time to get home or join friends to bring in the new year.
We recommend that you arrange for transportation (i.e. Uber/Lyft) so that all get to and from the event safely.
$15 per person corkage.
---