New Years Eve Dinner 2022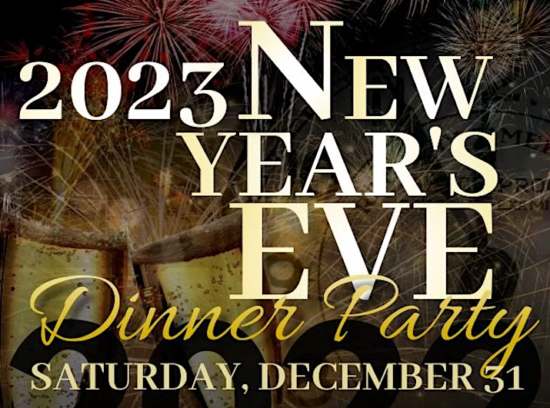 Saturday, December 31, 2022
DINNER FOR TWO – MENU
1st Course – Appetizer
(pick one each)
Beer Battered Stuffed Zucchini Blossoms Ricotta, Lemon Aioli
Shrimp Bisque, Spicy Shrimp and Polenta Croquette, Crispy Shallots
Duck Confit Rilletes, Tart Cherry Jam, Toasted Baguette, Fresh Thyme
*Includes Glass of Sparkling Wine  [or beer] **Upgrade to a bottle of champagne and get 20% off
2nd Course
(pick one each)
Classic Whole Leaf Caesar, Shaved Parmesan, Garlic Crostini, Fried White Anchovies
[add butter poached lobster +18]
Endive & Apple Salad, Cranberries, Blue Cheese, Red Onion, Pecans,
Brioche Croutons, Tangerine Vinaigrette
Mediterranean Tuna Tartar, Dijon Mustard, Capers, Fennel, Wonton Crisps
3rd Course – Entrée Course
(pick one each)
Risotto with Creamed Leeks, Maitake Mushroom Ragu, Shaved Truffles [vegetarian]
Roast Salmon EnCroute, Shrimp Stuffing, Double Whip Sour Cream Mashed Potato,
Asparagus, Champagne Butter Sauce
Bone-In Red Wine Braised Short Rib, Yukon Gold Au Gratin, Creamed Spinach
***A Glass of Wine Selected by our Owner/Certified Sommelier is Included with Entree Course
 4th Course – Dessert Course
(pick one to share)
Baked Apples, in Pastry Lattice, Vanilla Bean Ice Cream, Cinnamon Crumble
Double Chocolate Brioche Bread Pudding, Sweet Cream Ice Cream, Cherry Sauce
New York Cheesecake, Fresh Strawberries, Chocolate Sauce
———————————————————
$79 per person
 (9.5% Calif sales tax & 20% gratuity will be added to the final bill)
$25pp deposit required to reserve a seat – non-refundable unless we can fill your seat with another guest [gift certificate provided for cancellations with 24hr notice)
Special requests for changes to individual dishes are politely declined. +$5 for single diners
Reservations available at 6pm, 6:30pm, 8pm and 8:30pm.
We recommend that you arrange for transportation (i.e. Uber/Lyft) so that all get to and from the event safely.
$18 per person corkage. No bottle limit.
we will finish up  by 10:30pm so everyone can get home or to their designated gathering spot to ring in the new year with family & friends.
---